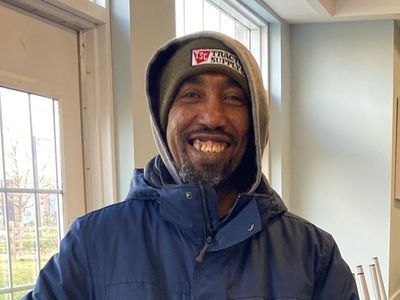 Bashir is a native Somalian. He was a first-hand witness to the brutalities of genocide that ravaged the land. His family suffered great acts of violence and he knew that it was time to leave. He hoped that he would find a better life and decided to relocate to the United States in 1999. Coming to the U.S., he encountered a whole new set of problems, as he did not have any family or friends here.
Bashir found himself homeless in 2015. During his time homeless, he encountered many adverse situations that he was forced to overcome, such as a brutal mugging that put him in the hospital. With the help of his shelter case manager, he was connected with CHN in the fall of 2017 and was able to quickly move into his new apartment on October 2, 2017.
Bashir is very thankful for being connected with CHN and for his new home. He demonstrates this thankfulness by doing things around the complex such as picking up and taking care of his apartment and the surrounding area. He spends his time mostly interacting and visiting with other residents and maintaining his home every day. Since the pandemic began, he has found the on-site services to be absolutely invaluable in his efforts to maintain a personal quarantine so as to keep himself and other residents safe. He maintains a close relationship with the on-site case manager.
-By CHN Board Member Brandon Guisinger