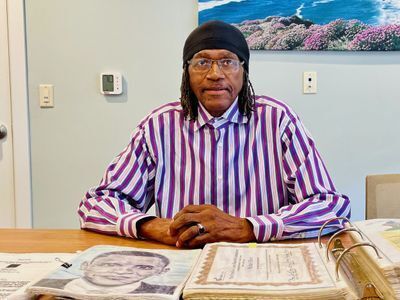 Michael first experienced homelessness when he was abandoned by his family at 12 years old. Throughout his youth and into adulthood, he lacked stable housing. He bounced from place to place, staying with family, friends, and the YMCA. As a young adult, he hitchhiked around the country. In 1988, he suffered a traumatic brain injury (TBI) after a terrible accident. Upon leaving the hospital, he again found himself without a home, and like many who suffer a TBI, experienced depression and self-medicated to find relief.
Michael found reliable housing around 2000 and maintained it until 2019 when he moved to Columbus. Unfortunately, his Columbus housing fell through, and he became homeless right before the start of the Covid-19 pandemic. Michael spent almost two years living on the porch of an abandoned house before he was introduced to CHN.
Michael didn't just find stable housing with CHN, but also real help from on-site engagement specialists for issues related to his physical, mental and emotional health. He enjoys creating art in his apartment and appreciates having large windows that let in natural light. When he isn't working on his art, Michael volunteers on boards and committees at NAMI, MakeADay Foundation, and The Traumatic Brain Injury Association of Ohio. He also speaks about issues related to TBI, learning disabilities, criminal justice, substance abuse, homelessness and mental illness at conferences throughout Ohio and beyond. He is dedicated to helping others by sharing both his story and his art to raise awareness about TBI, substance abuse, and homelessness. With support from the Brain Injury Association of Ohio, Michael is putting together a local support group for people who have experienced a traumatic brain injury. If you are interested in joining or learning more about this TBI support group, please email michaelolivertbi@yahoo.com.