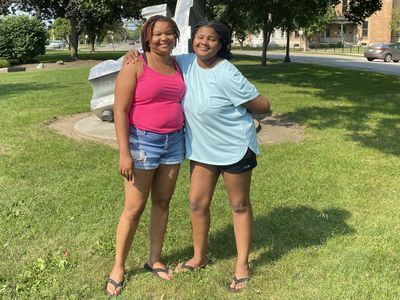 Courtney started drinking as a teenager. She dropped out of college and continued drinking into adulthood. It wasn't until reached her 30s that she decided to seek help, not only for herself, but also for her children. After going to rehab, Courtney and her three children moved into Amethyst supportive housing, an Alvis recovery program for single women with a family-centered approach to healing. She remembers thinking, "If I can't bring my kids to treatment, I'm not gonna come."
Her time at Amethyst was an important step forward, but Courtney knew she needed permanent, independent housing where she could continue to grow with supportive services in place. Courtney and her children moved into their CHN apartment in 2017 and continue to thrive. The "mother hen" of the building, Courtney is always there to help her neighbors and even started a support group.
Now, 20 years after her battle with alcoholism began, Courtney is back in college and on track to graduate with a degree in Social Work from Ohio State University in May of 2023. She hopes to one day open a sober-living building where women can bring their kids, like the one that made her own recovery possible.